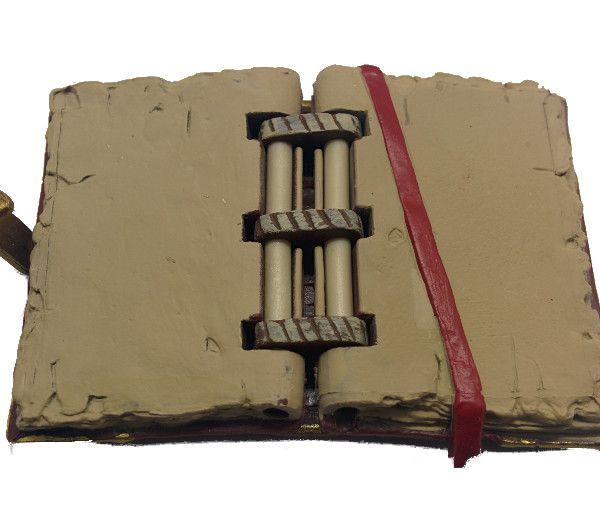 We had the opportunity to catch up with FMMT regarding his latest project/Kickstarter. Check it out!
Unless you've been living under a rock in a Shadow Beast cave for the last month, it has been impossible to not be caught up in the meteoric rise of Freeman's Mind Toys (FMMT).
On our end, we are very well acquainted with FMMT's work. Our reviews have always shown FMMT to be someone who puts a lot of pride in their work so as to produce highly detailed, and elaborate items.
In mid-July, FMMT broke news by saying he was launching a Kickstarter to support a new venture-- in-home produced 3D models for MOTUC. FMMT's first offering via Kickstarter would be the Dungeon Grate for Castle GS!
Over the month long campaign, FMMT received massive support, coordinated with MOTU titans Mark and Rebecca Taylor and superstar online retailed BBTS.com to help with his vision. At the end of the campaign, FMMT met his goal and then some. Now MOTUC fans everywhere can rejoice! Yet the story does not end there.
We were able to catch up with FMMT and interview him regarding the success of his KS, his inspiration and where he is going next.
MAAW: First and, most importantly, whats your favorite MOTU character/MOTUC figure?
FMMT: My favorite character is of course He-Man- I switch back and forth between Alcala and Timm versions as my favorite. I'll always have a place in my heart for Filmation obviously but it's not my go to depiction, with exception of voice. My favorite MOTUC figure is probably Tri-Klops- such a beautiful example of paint and sculpt all coming together into something really special, plus the warrior ring!
MAAW: What is your background? Do you have any formal experience in art design or did you learn your skill "on da streets?"
FMMT: As far as formal training, I have a Bachelor's in Fine Arts from Eastern Michigan University with a concentration in graphic design and minors in life drawing and art history (primarily 20th century art). My 3D set of skills was all self taught though.
MAAW: Why MOTU? What got you into customization?
FMMT: It's funny because after 200X I had forgotten about the property for a while but a chance encounter with Jeremy Padawer in a forum (around I think it would have been around the time they planned the Keldor convention exclusive) found me following up on a lead to do some copy editing for Wizard Entertainment or Magazine (or whatever the heck the company was calling itself at the time). I did some grunt level work on copy editing digital layouts for the online portion of Toyfare magazine. (I should clarify I wasn't employed BY Toyfare- I was just a grunt who checked copy). At the time the MOTUC ads were coming out and I was totally taken surprise by MOTU coming back and in a more "modern" scale at that and was hooked.
After that I had a brief period of time working in the game industry again with Sony (I had worked with them on Everquest Adventures for PS2 and then again worked on Playstation Home a bit before it launched and afterwards) and I believe sometime in 2011 I saw an ad about BG Teela and it totally got me into collection it again.
Custom work happened maybe a year later I believe. I owe a lot to Jeremy since I was so low on the totem pole that he happened to vaguely remember my name years later and it gave me some credibility- it's very sad how low level talent in publications are totally forgotten about and even more so when you're freelance.
MAAW: Moving onto the topic of the hour-- talk about your progression from your partnership with Shapeways to opening up your own shop? Why the leap? What did this involve and what were the risks (if any)?
FMMT: Shapeways came about as I was seeing talented people like Mike and Sascha doing absolutely amazing work in 3D printed accessories and found Shapeways that way- I had been teaching myself 3D modeling and production since around 2001-2002ish but had all but abandoned it until MOTUC and their work got me back into it.
There was a pretty large adjustment period making my build boxes and way of modeling work with Shapeways production system and it caused a lot of setbacks in my work and production deadlines. I think about a year ago or so I just had finally had enough of Shapeways making all the money and me making very little profit off of it in an effort to get my work out and I went to self production. I started (and still use) FDM or FFF model printers to produce heads and some smaller pieces, but I still wasn't getting where I needed to be professionally. I was still grateful and still am grateful for all of my early supporters in both my custom and digital designs.
MAAW: Following your progression, what inspired you to start with the dungeon grate as your proof of concept?
FMMT: On a chance discussion with Jesse Chagnon of Doom Kick fame, I realized that the dungeon grate idea wasn't going to happen from Mattel and WCV (or Backyard Legends or whatever they called themselves) had stopped producing the grate. I believed I could offer something special with my more recent integration of a more technical design concept at first coupled with organic modeling skills in the same pipeline. I decided about two months ago to just take a risk and bought a Lulzbot Taz 6 machine and came to the conclusion that the Well of Souls project would be brought back to life.
As I saw the interest was there pre-launch, I started discussing with Rebecca Taylor (Mark Taylor's wife and the "Parents of MOTU" in most fans minds) how I could approach this project and still stay true to the original vision her and Mark had for the Grayskull prototype. A bit of a side note, Rebecca is EXTREMELY humble and has fought to see Mark and all of his accomplishments properly credited in design and pop culture history and I was lucky enough that her and Mark saw my work and were willing to give me their "blessing" so to speak as far as an endorsement goes. Mark and Rudy were heroes of mine as a little kid before ever even knowing their names and it was very important to me that I did this with their knowledge instead of directly copying the concept and giving no credit to where it was due.
This may hurt me in the future professionally but it's a pretty well known fact that Mattel has a history of not exactly endearing themselves to their creators who put their company on the map, as well as other artists taking credit for work after long standing employees departed for new companies. People like Mark and Rebecca Taylor, Rudy Obrero, Tony Guerrero, Ted Mayer and many others created pop culture icons that made Mattel BILLIONS in the 80's and early 90's and the lack of recognition they received for years outside of the exhaustive efforts of Tomarts, The Power and the Honor Foundation and dedicated fans is a huge injustice.
With that sidetrack out of the way, as my Kickstarter picked up more and more steam I found myself looking at the Grayskull prototype and realized we're unlikely to ever get the rest of the items unless a third party does them...I decided to be that third party. At the same time, I have been modeling playsets and vehicles on the side for a few years now and I took a few weeks before the campaign launched and finished a bunch of them up like the Land Shark, Dragon Walker, Thunder Tank etc. to show my ability to render more technical concepts of which many people were aware I had the knowledge to do.
I was very fortunate during all this that Joel from
BBTS.COM
saw my Kickstarter and I was offered the chance to also sell a limited run of my grates on the store- a limited run of 30 glow in the dark color way pieces which quickly sold out for an October release and then a purchase of my regular grate for release next year.
MAAW: As the KS went on, we saw A LOT of material and ideas come out. Everything from Castle GS related pieces, to vehicles to playsets. Following the success of your KS, how do you plan to organize your item and priorities with all of these ideas you have? Where do you think your focus will be?
FMMT: As the Kickstarter winds down now, my first priority will ALWAYS be the completion of work I have on my plate right now- I produced some seriously large scale rewards like the Grayskull bridge, stand, the Spirit of the Well and others and my focus is on fulfilling very order on time and with the best quality possible. I'm literally investing 90% of the KS funds back into the project itself while already having invested thousands on top of it of my own money and I'm just as invested in this as my customer base is. I have a private studio outside of my home, a production facility for my packaging locally, and I was lucky enough to also use this opportunity to work with Richard Garcia and Dyl Cook, two super talented fans and professionals in the industry whom I believe don't get the proper exposure of their work.
Both Richard and Dyl are working on packaging art I will be using for the project on both the package as well as the included print and sticker concepts. One of the most important parts of carving out a place for myself in the toy industry was allowing myself the chance to work with some of my favorite artists and creative influences whether known or unknown entirely in the game today- as an example of that, I hope to be working with a very well known mini comic artist on my next project for kickstarter coming sometime in November for a spring 2017 release- The Road Ripper in a MOTUC compatible scale.
I have to take a moment to mention none of my kits are endorsed or produced via Mattel nor are they infringing on existing TM as I've heavily reworked the art and design on them as more an homage as opposed to a direct replica of their original predecessors. It seems every brand out there has 3rd party offerings and MOTUC is sorely lacking in that and I aim to be part of an offering that changes that. Many people have also seen my Thundercats inspired pieces and there will be some announcements in the future on how those will be handled as far as production and distribution goes.
One thing I remind people is that when you're offering consumer products at a professional level it should be a case of doing it right the first time or don't do it at all- I'm very much a small time operation and I have no desire to produce mediocre offerings. I should also mention that it's EXTREMELY likely a limited color way or two will find a way to the market sometime next year for those people who missed out on the Kickstarter.
MAAW: Finally, what do you think is the biggest surprise/take away message/or revelation you had during this KS?
FMMT: I think the one important take away I've gathered from this experience thus far is that I have a great audience of people who dig the work I'm trying to put out there and are willing to support it as a result. Lets not mince words here, I'm an extremely outspoken individual and it's rubbed people the wrong way many, MANY times in the past and now, but I'm in a place as a professional right now that I realize perhaps a more dialed back approach is the more appropriate way to go. I'm well aware there are people out there that would LOVE to see me fail at my endeavors and for some of my past infantile behavior I can't say I'd blame them, but at the same time I hope even the most outspoken of my critics can respect the steps I'm taking to make amends as a person and professional. I won't apologize for being openly vocal and critical about work or policies individuals or companies use that I think are wrong though, you'll still get the same unfiltered opinions from me in the future except they will be dialed back and more thought out. I'm just extremely thankful to everyone who has made this endeavor a success and it's my sincere hope this is only the first in many successful projects for Freeman's Mind Toys- I want to make cool plastic product that I'd want to collect myself!
________________
So there ya have it folks, straight from the man himself!
Personally, and having been in the 3rd party customs field for a while, I'm very excited to see this project succeed. I appreciate FMMT's vision and the grandness that he is taking on. The concept of custom packaging, a better quality 3D printed product (as compared to Shapeways) and a new service delivery model are all very alluring concepts which I endorse. We will be keeping a close eye on this stuff and will be bringing a review once we get our paws on it!